Camp Outright
Summer Camp with a Queer Twist!
Announcement: Camp Outright 13.0 in 2024
Session 1: Friday, July 5 - Thursday, July 11

Session 2: Saturday, July 13 - Friday, July 19
Camper applications are open from Monday, February 26 - Wednesday, March 13.
Camp Outright & Winter Camp Reunion
Camp Outright is an overnight summer camp…with a queer twist! Campers ages 13-17 find their people — and themselves — through play, self-expression, connection, community, and queer joy. LGBTQ+ youth are celebrated and do not need to explain or justify their identities to anyone. Youth tell us that the acceptance and community they found at Camp changed them forever. Campers leave transformed by the knowledge that they are not alone.
Located in beautiful Vermont, Camp Outright is the sole camp tailored to LGBTQ+ and allied youth in the state. We offer two one-week camp sessions during the summer, and campers are invited back for a Winter Reunion. Campers enjoy activities based on their interests, from nature activities to visual and performing arts, to sports and social change workshops. It's a place where LGBTQ+ youth are free just to be kids.
Although most campers are Vermont youth, we also accept youth from out of the state. And, thanks to our generous supporters, we can ensure that no one is turned away for lack of funds. Full and partial scholarships are available to support campers. The scholarship application is on the same form as camper registration.

And did we mention Winter Reunion?! Open only to those who attended Camp Outright during the same year, campers can reconnect with their camp friends for this bonus weekend to enjoy Vermont's winter wonderland. There's sledding, winter games, and a cozy lodge where campers can curl up with a good book. Don't worry; there's heat in the lodging for Winter Reunion!

Sign up for our newsletter and follow us on social media to stay tuned for important announcements about Camp Outright dates and details. Check out the FAQ below for more information.
Oh, and here's an important side note: did you know that according to the American Camp Association, only 36 of the nation's roughly 16,000 day and overnight summer camps are considered LGBTQ+ friendly, making Camp Outright a national leader in camping for LGBTQ+ youth? - You might also say that it makes Camp Outright a unicorn!
Although there isn't a comprehensive list, check out the other handful of camps for LGBTQ+ youth.
I want to live for moments like this.
// An Outright Camper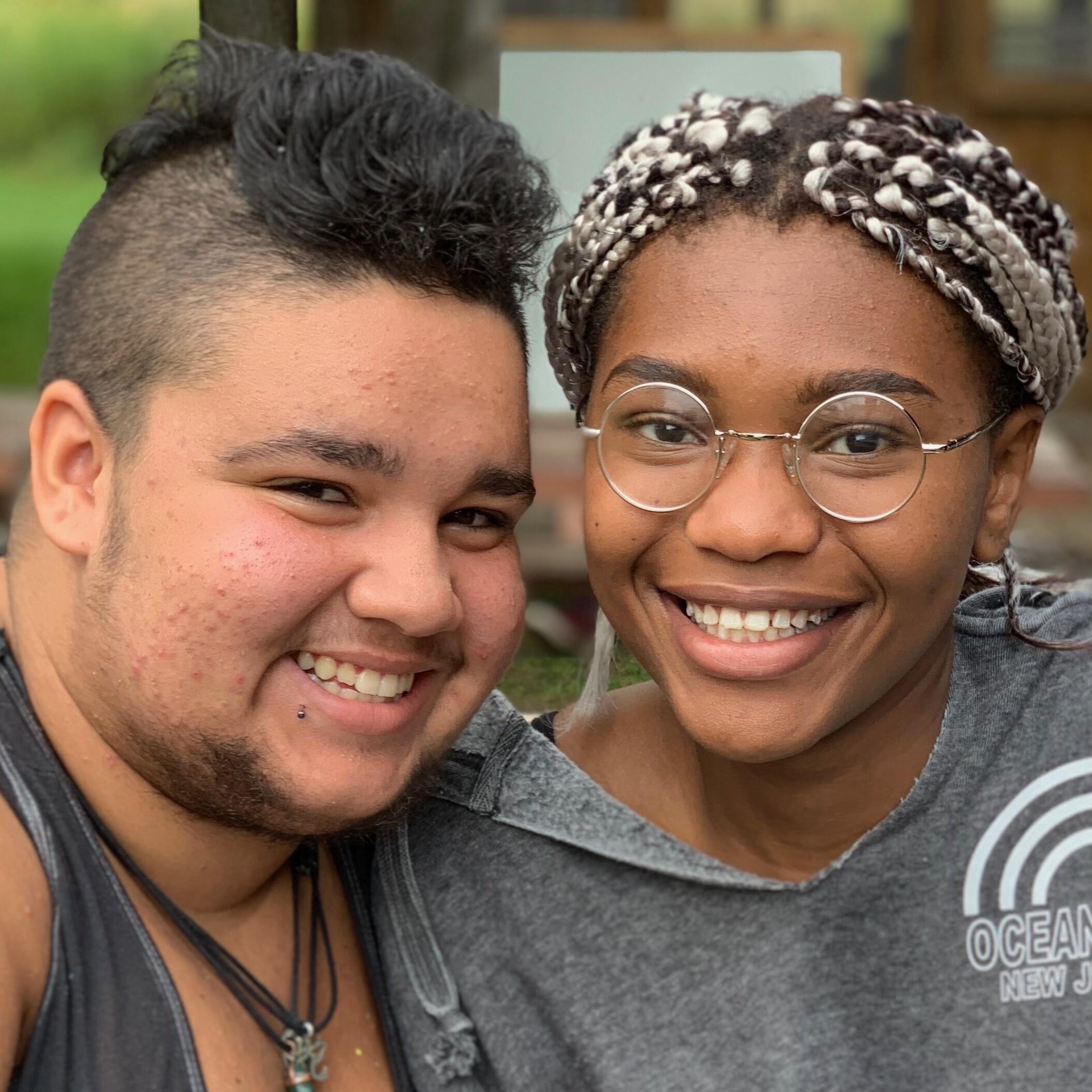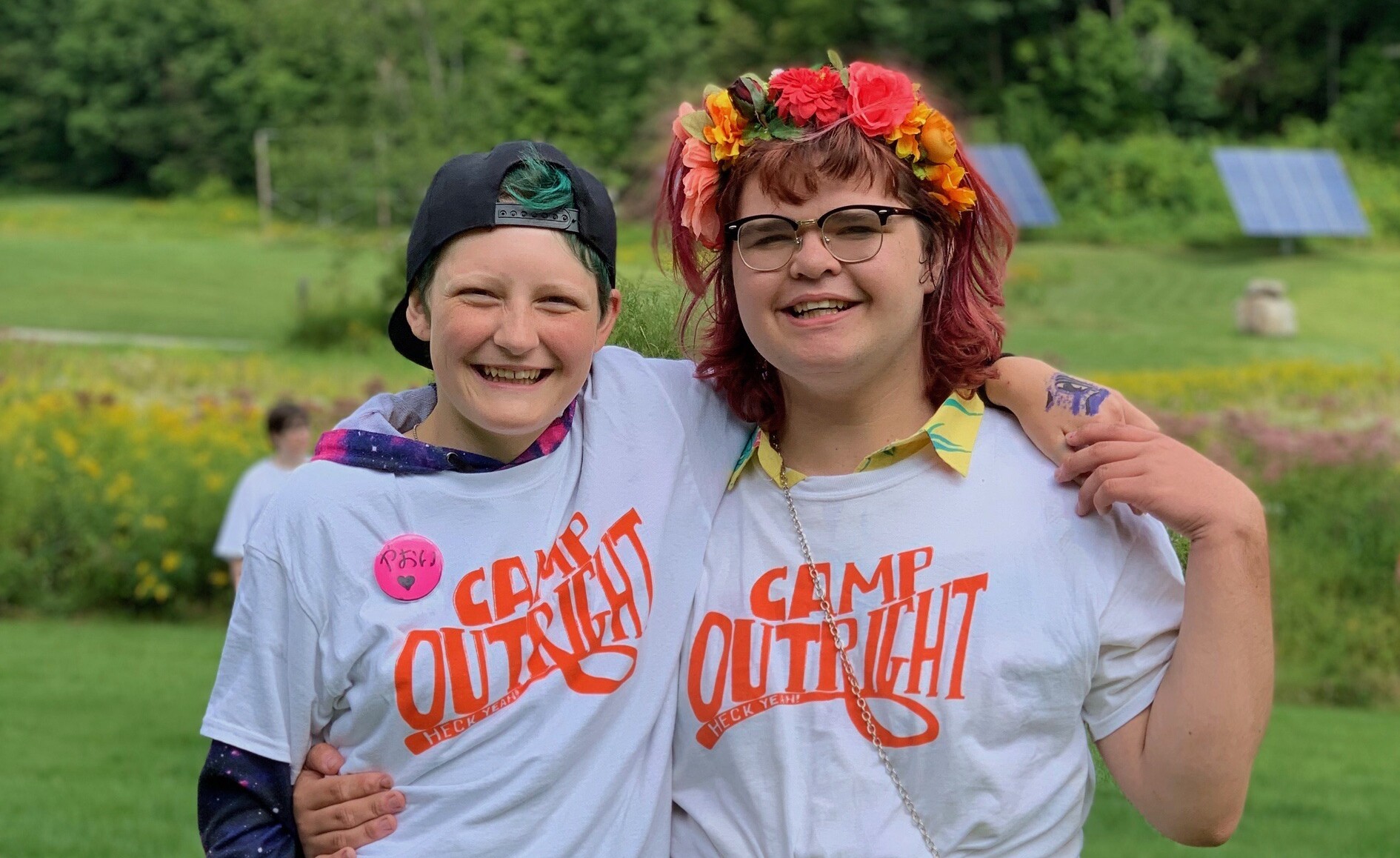 For More Information
Emma Makdessi (she/they)
Camp Director, Director of Community Engagement
The dates of Camp Outright (Camp) are announced in December. You can watch this page, follow us on social media, or sign up for our Camp mailing list to get a heads-up when all the details are available. To get on the mailing list, email info@outrightvt.org.
To help meet the high demand for Camp, we now offer two consecutive week-long sessions of camp each summer! Each camper may attend only one session per season. Campers are welcome to apply for the session that works best with their schedule.
We do not provide transportation to camp, but we encourage folks to carpool and will assist with coordination. If you have extra space in your vehicle and are willing to carpool, please indicate so on the registration form.
The LIT application will open at the same time as the Camper application. Our LIT program is a two-week program designed for 18 & 19-year-olds to build leadership skills and support camp while experiencing the magic of Camp Outright. This position offers a stipend. Youth may only be an LIT for one summer! To apply to our LIT program, look for more information and the application on Campbrain.
Tuition for Camp covers about 1/3 of the true cost of running Camp. We are committed to keeping tuition well below the actual cost. Campers are never turned down due to an inability to pay. Please talk to us about payment and scholarship options!
And, for families who can afford to contribute a little more to support our scholarship program, we have options for you to help make a difference.
Pay in Installments
You may pay up to three installments, which can be set up on CampBrain if your camper is accepted into camp. Please do not submit any payments until your camper's spot has been confirmed by Outright staff.
Apply for a Scholarship
We ensure that no one is turned away for lack of funds; full and partial scholarships are available to support campers. The scholarship application is on the same form as camper registration.
Applications for Camp open in February and are open for a two-week window. You can watch this page, or we can add you to the Camp mailing list, so you'll be one of the first to know when the application opens! To get on the mailing list, email info@outrightvt.org.

We use CampBrain for our application and registration process. The steps below describe how our camp cohorts are created.
Step 1:
You create an account on CampBrain and complete the initial application. This allows us to collect the needed information to create cohorts for each session. We work to ensure that each Camp session is diverse across age, gender, race, location, and other factors. Campers are never turned down due to inability to pay.
No deposit is required at this stage in the process.
Step 2:
We will email you letting you know if there is a spot for you at camp or if you have been waitlisted.
If Accepted

You will log back into CampBrain and finalize the remaining forms, including health forms, consent forms, camp tuition, etc.
IMPORTANT: Your acceptance notification will include the deadline to complete your registration. If you do not complete your remaining forms by the deadline, you will lose your spot!
If Waitlisted

We wish that we had the capacity to accept everyone that applies to camp. Unfortunately, we have a limited number of spaces available. If spots become available, we will reach out to families on the waitlist.
Unfortunately, we can't save spots. In order to secure a spot, all required paperwork must be delivered to us on or before the deadline. If it's difficult to complete the paperwork, please reach out so we can help!
It is a lot easier on our end if the paperwork is uploaded into CampBrain. If scanning paper is difficult, you can take a picture and upload it. Or send it via email so that we can upload it.
If you don't have easy access to a computer, you may mail in your paperwork/payment. We plan the application process with ample time for families to complete their paperwork. It MUST ARRIVE by the deadline.
Mailing address: Outright Vermont, PO Box 5235, Burlington, VT 05402
We wish we had enough space for everyone, but we do have a maximum capacity and a looong waitlist. We know there are many reasons your youth should be at camp, but we cannot entertain requests for youth to be prioritized on the waitlist. If a spot opens, we will be excited to contact you!
We do understand how important camp is for many youths. If you are on the waitlist for Camp Outright, we recommend checking out this list of other camps for queer youth, many of which often have spots open after ours are filled.
The most movement happens in June because spots open when potential campers do not complete their registration by the deadline. At that time, we give spots to youth on the waitlist. However, we take youth off the waitlist as spots open throughout the season. This means that someone could drop out of camp one month before camp, or even a couple of weeks before camp. That makes it pretty impossible for us to give a concrete timeline for when waitlisted folks may hear back from us, and we know that can be frustrating! If you would like to be removed from the waitlist entirely, please let us know.
Camp Outright works closely with health professionals to take every precaution that ensures Camp is COVID-safe and everyone has a healthy and fun experience.
All campers and staff must provide proof of the primary series (first and second dose) COVID vaccine. Upon arrival at camp, all campers will be tested for COVID. Taking precautions and testing prior to camp is encouraged but not required.
Camp programming is held outside as much as possible. Campers are asked to wear masks if exhibiting cold symptoms or as needed throughout the week. Campers are always welcome to mask at any time and there will always be staff that mask in solidarity. Hand-washing stations and hand sanitizer are widely available throughout Camp.
We appreciate your flexibility, as COVID protocols may be relaxed or tightened depending on the state of the pandemic, and there is always the possibility that an in-person camp may have to be canceled due to the pandemic. We will communicate any changes made regarding COVID protocols to campers, parents, and caregivers prior to and during camp.


Outright partners with the University of Vermont Medical Center to staff our onsite Wellness Team at Camp. The medical team is supervised by a pediatric specialist embedded in the LGBTQ+ community, and consists of a team of two, 3rd and 4th-year medical residents as well as a nurse.
In addition, three licensed mental health providers are available to support campers throughout the week. We are not a therapeutic camp, and our mental health providers do not provide therapeutic sessions for campers. However, they are available to support Camp's overall positive environment, connect with campers as needed and assist staff with meeting the emotional and social needs of campers.
All medications are kept in locked storage at the wellness center, and the medical staff on the Wellness Team distributes medication to campers. Camp Counselors receive information regarding medications for each of their campers, and they ensure that campers retrieve their medications from the Wellness Team at the appropriate times.
Once your camper is accepted, you can log into your CampBrain account to access all the health forms under your camper's "Profile." When you complete the health forms, you will see a green checkmark next to each section. All sections must display a green check mark in order for the health forms to be accepted.
REMINDER: We require all campers to have a physical completed and the form signed by their pediatrician. Please be sure to set that appointment early!
The campsite offers rustic cabins surrounded by beautiful green forests and meadows. Campers sleep in bunk beds, in the company of up to seven other campers and two counselors. Campers and counselors are housed in cabins by self-determined gender identity and age group. There is no electricity inside the cabins or on the paths, so campers should bring flashlights and extra batteries.
All the bathrooms at Camp are gender-liberated. There is a common bathhouse with two separate bathrooms that have toilets in stalls. There are several single-stall bathrooms throughout camp. All bathrooms have electricity, hot water, and locks. There are single-stall showers at the bathhouse, both indoors and outdoors. The showers have locking stall doors as well.
Campers are not allowed to bring food from home as it will attract wildlife to cabins and can pose a threat to others with food allergies. All food with nuts, milk, wheat, eggs, soy, and other common food allergies are labeled. If campers express an uncommon food allergy in their registration form, it's also labeled.
Our kitchen staff produces amazing fresh, hot, tasty meals for breakfast, lunch, and dinner. There are options for meat eaters, vegetarians, vegans, and people who are gluten-free, and all allergens are labeled clearly during mealtimes. You'll have an opportunity to list any dietary restrictions on your application to Camp.
Snacks are available between meals, and there is always a sandwich bar at every meal for campers who want an alternative to what is served.
When you complete your registration, we will send you a confirmation email with important information, including a packing list. Campers need to pack bedding, enough clothes for the week, sunscreen, a flashlight, and comfort items like stuffed animals or noise-canceling headphones.
There is no required swim time and campers are welcome to hang out at the pond without swimming. Pond time is always supervised by two certified lifeguards and additional camp staff. Campers who are interested in swimming beyond the roped-off shallow end must first pass a swim test with our lifeguards.
It is a Camp policy that all campers must have swimwear that covers their chest. Some people wear shorts and a t-shirt, some wear a one-piece or two-piece bathing suit and some wear swim trunks and a compression shirt. If you're interested in swimming but don't know what to wear, we will gladly help you find a solution.
Each winter, the previous Summer's campers are invited back to the campground for Winter Reunion — a weekend getaway where youth reconnect with their Camp friends and enjoy sledding and romping together in Vermont's winter wonderland — or just curl up with a good book in the cozy lodge.