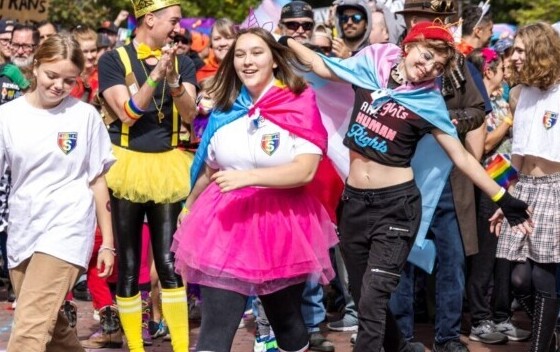 Responding to the anti-trans backlash in Vermont, October 5, 2022
Hello Outright friends and family –
There's so much I'd hoped to be writing to you this week. I wanted you to hear stories of a record-breaking fundraiser, the thrill of once again being together on Church Street, and new friendships forged along the Pull rope.
And those stories will come.
But today, with Vermont's trans youth so publicly and widely under attack, other things need saying.
When I contemplate what I want the nation to see as the media spotlight shines on Vermont, the image is clear. I see the beaming faces of queer and trans youth as they came together on Saturday for a day that was all about them. I see them smiling, dancing, and literally jumping for joy, while surrounded by an impenetrable wall of their greatest champions. Friends, family, you.
What we pay attention to grows (thank you, adrienne maree brown). And the garden that we are tending lives within these youth. Thank you, each of you, for making it possible for them to come together in solidarity and joy. Thank you for letting youth know there is a community that relishes everything about them, from their tender hearts to their audacious power.
When the bright lights shine on our community, those looking in will be dazzled – that light will break into a million sparkles as it hits all the glitter and sequins that we can muster. What they will see is our joy, pure and simple.
Please read on, my friends, so you can see how we are responding in this moment. We are not going to let those who lead with misinformation and hate drive the narrative. As youth have reminded us over and over in the past year – we cannot, will not, back down.
In solidarity, Dana
MEDIA STATEMENT FROM OUTRIGHT VERMONT
Make no mistake, trans people – especially trans youth – are under attack in this country and right here in Vermont, in all corners of our state. You may ask if the latest onslaught of hate is unprecedented in our state's history, the answer is yes, and you should be concerned.
Vermont's trans youth, their families, and allied educators are enveloped by an elevated climate of fear-mongering and increased actions of harassment. It is fueled by national and international anti-trans activists who are well-known bullies, promoting hate. WCAX, a media outlet that reaches 99% of Vermonters, used its power to spread misinformation that is wreaking havoc on the lives of young trans people. Even a school's website was hacked with transphobic hate.
We do not need to look to Texas or Florida to see what is happening. We can look only as far as our backyards to know that trans youth are increasingly targeted for harm— based solely on their identity—in a new wave of LGBTQ+ backlash. Young people and their families are facing incessant vitriol and threats of violence at community events, schools, and elsewhere. The drivers of hate are orchestrating a coordinated campaign to send a clear message; trans youth are not welcome, and they are not safe. And the intended and unintended impact is life-threatening.
A challenge for every Vermonter is to recognize the insidious nature of transphobic hate and how it has successfully crept into our progressive state; one that prides itself on acceptance, fairness and caring for our neighbors. The actions of extremists distract from the hidden truth: moderate thinkers have convinced themselves that there are two sides. This unwittingly spurs the vitriol through collective silence or denial of the violence and harm being done.
The Vermont Youth Risk Behavior Survey (YRBS) data provides an essential, longitudinal look at risk and resilience factors among middle and high school youth and their peers. It squarely features the reality of what it's like to live your life as an LGBTQ+ youth in Vermont.
Key findings from the 2019 YRBS include:
LGBT youth are 3.5x as likely (38% vs 14%) to have experienced unwanted sexual contact in their lifetime than their heterosexual peers.
LGBT youth are 3x as likely (13% vs 5%) to have skipped school in the last 30 days because of feeling unsafe than their heterosexual peers.
LGBT youth are 4.5x as likely (19% vs 4%) to have attempted suicide in the last 12 months than their heterosexual peers
These increased risks are not inherent to LGBTQ+ identities; they are an outcome of the undue burden of stress created by living in a world never designed for LGBTQ+ youth to thrive and succeed. The tenuous progress we have made is being undone before our eyes. And the constant threats and messages of harm that target LGBTQ+ youth lead to a lived experience of extremes – isolation, invisibility, erasure, hypervisibility and tokenism. Just ask the teenager in Randolph trying to play volleyball with her team. Or ask the LGBTQ+ youth, their families and other adult allies who were protested by anti-trans youth activists at our Fire Truck Pull last week; the first protest in this event's long history.
Today and always, Outright Vermont is here to build hope, equity, and power alongside LGBTQ+ youth.
And in the face of threats, the safety we find in the community shines through. Calls and emails to Outright from supporters have spiked, asking how to hold local leaders accountable and what parents, teachers, and administrators should do to ensure the safety and dignity of trans youth.
The first action is to hold onto this anchoring truth: one's personal discomfort doesn't trump another person's right to exist. All youth have a right to live and learn in environments where they feel safe to be themselves, full stop.
Second, we call on all parents, adult allies, communities, and schools to join us in standing with LGBTQ+ youth in Vermont. Dedicate your time and resources to help them create communities where they can thrive.
Third, be a visible and vocal supporter of LGBTQ+ youth. No action is too small. Fly your flag. Post a sign of support on your car, at your home, and, if possible, where you work.
Lastly, learn about and call on school officials to make our educational system inclusive and embracing of trans youth.
We are here to guide and support you. Reach out and we will respond.
In moments like these, we at Outright look to the healing ideas of writer and thought leader, adrienne maree brown. In her 2018 writing titled attention liberation: a commitment, a year of practice she states: "what we give attention to grows. what we pay attention to grows."
Maintaining our focus on what we want to grow—hope, equity, and power for LGBTQ+ youth—is a call to action for us all.