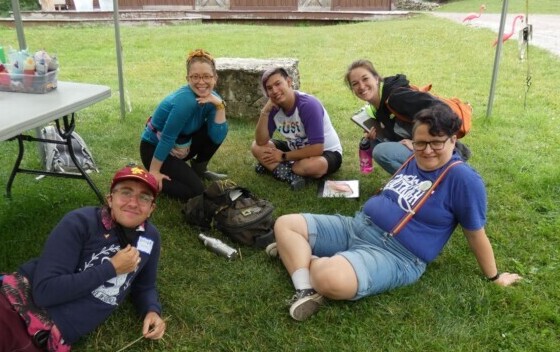 "Self-care is not self-indulgence, it is self-preservation." – Audre Lorde
We're going on Gaycation!
Outright's office will be closed from July 16th through July 31st. There is so much left to do in order to build the Vermont LGBTQ+ youth deserve, but we also know that nourishment, care, and grace are key to showing up as our fiercest, most fabulous selves. Youth deserve us at our best!
Don't worry – our amazing volunteers will keep Friday Night Group rolling on the usual schedule. (Here's more info on the programs schedule this month.) Email info@outrightvt.org for instructions to join virtual FNG!
First things first: a few tips for while we're away.
If you're a youth having a tough time and you need to talk to somebody, here are some friends you can call.
If you need help with basic needs like housing and food, call 2-1-1.
Virtual and IRL Friday Night Group will meet as usual! Our amazing volunteer facilitators will be there to hold space for pals to gather. No need to sign up in advance, just come on bi!

For Virtual FNG, send an email to info@outrightvt.org for instructions to get connected.

If you're a parent or caregiver looking for info on how to support your LGBTQ kiddo, visit PFLAG.
If you've got a non-urgent queery for us, feel free to call the office and leave a message, or email info@outrightvt.org – we'll get back to you ASAP in August.
During this time, we'll be basking, processing, dreaming and reflecting on how far we've come. We're looking at two whole weeks of camp, education offerings around the corner, an ever mightier statewide network of youth activists, and so much more. Thanks to you, our team is growing like a beanstalk to show up everywhere youth are. All we can say is… Heck Yeah!
We'll miss you lots! Remember to drink water, be kind to yourself, and we'll be back with you in August! <3