3/11/22 Queer Youth Walkout
On Friday, March 11th, from 1:00-1:20 pm, Vermont students will join thousands of peers across the nation in what could be the largest LGBTQ+ youth led walkout in history.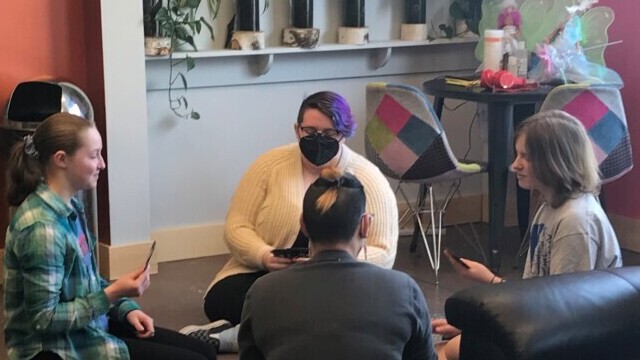 Vermont Students Join Nationwide Walkout for LGBTQ+ Rights
On Friday, March 11th, from 1:00-1:20 pm, Vermont students will join thousands of peers across the nation in what could be the largest LGBTQ+ youth led walkout in history. They are protesting the recent wave of anti-LGBTQ+ actions that queer youth advocates say will further endanger a population already at elevated risk of bullying, violence, and suicide. All students are strongly encouraged to participate, and adult supporters to stand in solidarity with youth. Youth Organizers are rapidly mobilizing to support Vermont students' participation in this national action. "I urge you to join us on this walkout, as not only a protest against violence and hatred, but also as a celebration of queer joy and visibility," Youth Organizer and Montpelier High School student Charlie McCaffrey said.
Outright Vermont's Youth Organizers are hosting an online meeting on March 9th at 6:00 pm to provide information about the walkout and support youth who want to get their schools involved. Youth organizers will also host an alternative online event for those unable to walk out in person.
Outright is calling on school staff and administrators to support students' participation in the walk out. Outright also encourages all adult supporters to contact their lawmakers (state and federal) and voice support for Vermont's LGBTQ+ youth. "By standing with youth in solidarity across the nation, adults can communicate clearly that they do not stand for hate, fear, and misinformation about LGBTQ+ identities and realities," says Outright Director of Organizing V Pearson.
This national protest responds to anti-LGBTQ+ actions by public officials that specifically target youth, including Texas Gov. Greg Abbott's directive to treat gender-affirming healthcare for trans youth as child abuse and Florida's "Don't Say Gay" Bill, HB1557, which would restrict educators' freedom to discuss issues of gender and sexuality with young people. Charlie says, "By teaching children that queerness is something that we do not speak of, we not only plant the idea that being queer is wrong, but also create a breeding ground where hatred can grow. These bills will cause harm to countless children by isolating them from vital information, their community, and their peers."
As the nationwide political divide continues to grow, hatred and discrimination against LGBTQ+ youth are escalating. By participating in the national walkout, Youth Organizers and students around the state aim to make Vermonters aware that attacks on LGBTQ+ rights are present everywhere, including here in Vermont. Just last month, an anonymous group of parents threatened legal action against the Dresden School District – an interstate district including Norwich, VT and parts of New Hampshire – to require schools to disclose students' trans status without the student's consent. Amidst a strong public backlash, the threat was withdrawn, but Youth Organizers urge supporters to remain vigilant, warning, "If these bills pass, I am certain they will not be the last."
Let's spread hope, equity, and power to LGBTQ youth! To find out more about the national youth movement, visit queeryouthassemble.org.