Supporting youth through grief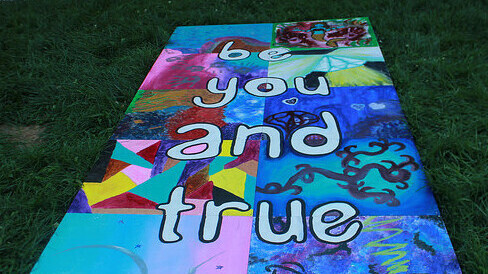 This resource was developed after the tragic and untimely death of beloved community member Fern Feather in 2022. We honor the grief journeys of those who loved her. We honor her memory with kindness, tenderness, and appreciation of small and beautiful things.
AS WE NAVIGATE HARD TIMES ALONGSIDE YOUNG PEOPLE, HERE ARE SOME OFFERINGS FROM THE OUTRIGHT TEAM:
It really matters that we not hide reality from youth. It can be hard to talk about, especially as we process our own grief and rage, but our silence will not protect us. With the reality of news cycles and the ever present newsfeed on our phones, it's likely that at least peripherally, youth know. If you don't know how to begin, take a look at this resource on supporting youth after a violent death.
Take special care with the youth in our community who may be feeling disproportionately threatened because of their identities. Youth whose intersecting identities put them at risk on multiple levels might be feeling particularly alone. Check in with them, share sweet cat pictures, be both gentle and truthful. Don't try to minimize feelings or concerns, and offer counters and connections that affirm, respect, and reflect their truth and the goodness of who they are.
Let youth lead, and move at their pace. If they ask questions, be honest (and developmentally matching). You can share that a person has died, a friend of the community, and that that person shouldn't have died, and it's very sad. You can ask: how do you feel? What do you think about when you hear this news? Here is a resource for adults caring for grieving teens.
Make space for youth to have feelings/responses, AND talk about the tragedy in the context of community care. How do we know that we care for each other? How are we watching out for each other? Who can we talk to if we are upset or spun by this news? Find our Community Care Toolkit here for more about the meaning and importance of community care.
Many folks ask — what can we do? This is a big important question. Figuring out ways of offering each other care, talking about how you can support each other, and acting on that, is really important. As author and activist adrienne maree brown writes, "your grief is a worthwhile use of your time."
Our website has these resources for youth in crisis for you to share.
Attending a vigil, learning about and honoring the lives of those impacted are also ways to offer care and recognition.
Those who are based in schools may want to alert counseling staff about this reality, and talk it over with them.
Outright is here, now and always. Peace and tenderness to all as we mourn the lost, and fight like hell for the living.