Leadership Day 2023 – Act Now!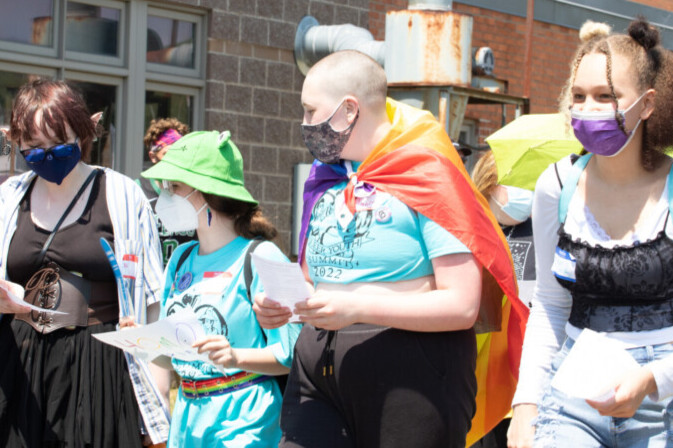 At Outright Vermont's Annual Leadership Day, youth have a chance to learn from leaders from multiple sectors and build connections as a statewide community. We consistently plan for Leadership Day to fall on Trans Day of Visibility– March 31– on purpose. In a miraculous twist, our friends at Queer Youth Assemble– a national youth movement– called out for a March for Queer and Trans Youth Autonomy this year on Trans Day of Visibility. As LGBTQ+ youth face mounting antagonism at a local and national scale, Leadership Day 2023 offers youth the space to stand together, stand strong, and make their voices heard. Heck Yeah!
Our Leadership Day in 2023 is twofold:
On March 30th – a half-day, in-school Zoom field trip for GSA youth to meet and dialogue with queer and trans leaders and explore what leadership can be!
On March 31st – an in person Rally and SpeakOut for queer and trans youth to voice their truth at the State House.
GSA Members: talk to your advisor, and sign up to participate! Attend the online portion on March 30, and make your way to the State House in Montpelier on March 31 and show up with youth from around the state to bring the national demands (link) to those in power in the State House.
Sign up for Leadership Day by registering using this link. Registration Closes on March 15th.
Adult supporters: Come listen and support queer youth power! Adults are encouraged to attend the Youth March and SpeakOUT at the Montpelier Statehouse on March 31st from 12-1:30pm. Bring your brightest signs of support and show up in solidarity as LGBTQ+ youth give voice to their demands & priorities for leaders and community members.