Laws May Fail Us – But together, we are strong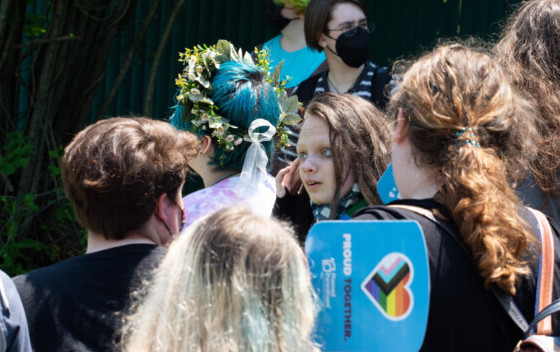 We are right here with you.
For the fury, numbness, hopelessness, fear – together, we can hold it all. The Supreme Court's decision to overturn Roe V. Wade puts all of us at risk. This painful moment is a time to reconnect with our queer legacy: when our laws and lawmakers perpetuate injustice, we fight back. We show up for each other.
That is what community is for – to be here for each other, in all the ways we need. When our laws and lawmakers fail us, it is our resolve that lights the way.
That resolve may look different for each of us in this moment – we each bring something unique to the revolution. Some of us are ready to head into the fray. Some of us are here to reach out a hand to those being crushed by this blow. Some of us simply need to accept that hand. I can feel each of you out there – making posters, activating networks, checking on friends, dancing as an act of defiance, packing a picnic, holding your kiddos close.
Here's what we'd like you to hear right now: we are here with you, and with youth. In a time when attacks on our rights are already at an unprecedented high, this decision adds fuel to the fire.
And it also fans our flames. What they don't know is how deeply their actions strengthen our resolve.
We're all navigating complicated emotions, seeking ways to take action, and trying to put one foot in front of the other. Do only what you can. Fight when you are able, rest when you need it. Our community is immense, passionate, and powerful. We'll be taking comfort in the knowledge that we are all in this together – and we hope you can do the same.
Know this: Vermont's LGBTQ+ youth can build the future they need. They've got the recipe of community dialed. They just need to keep knowing we are by their sides. They've got this. You've got this. We've got this. Heck. Yeah.
What to Do
If you're ready to take action in this moment, here are a couple places to start:
Language matters. The Supreme Court decision impacts all people who can become pregnant: women, trans men, non-binary, and gender non-conforming folks. Look for opportunities to encourage folks around you to be inclusive. While this article is from last fall, it has important things to say on how women-specific language perpetuates harm in our healthcare systems.
Knowledge is power. The right to privacy underpins this decision – and is the same basis for laws protecting marriage equality and contraception access. Brush up on the connections with this read.
Join a protest. There is power in numbers. This decision goes against the will of the majority of folks in our country. Stand side by side with them – find an event here.
Know where to find resources. Advocates for Youth can help you access abortion services. The Trevor Project is here for youth needing emotional support. Friday Night Group continues, and Trans Parent group meets on July 5th. When you need to talk, there's always someone to listen.
Recognizing all the impacts. Our partners over at Centerlink have published a response to today's Supreme Court decision. They speak powerfully to the ways in which this decision disproportionately affects Black, Latino, and Indigenous people.