Join the 2022 Fire Truck Pull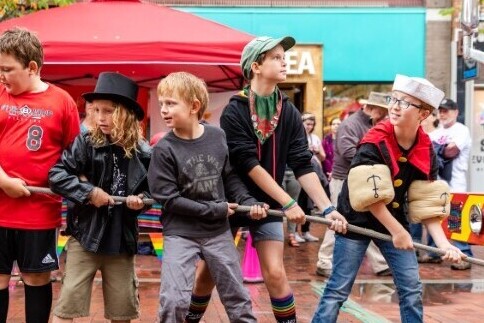 Making – or Joining – A Fire Truck Pull Team
Teams are what make the Pull go round. It's the groups of folx united in a common pursuit to raise funds and Pull that truck! There's room for everyone on your team: the cheerleaders, the connectors, the diligent paperwork-organizers, and the costume designers. So let's see how this thing works!
CREATE A TEAM.
The first step is to figure out who your team will be. Is it a group of friends? Your co-workers who want to trot out some branded gear? Maybe it's your book club, school's GSA, or a bunch of buddies from the gym. Maybe it's a unique amalgamation of folx – we are so ready to see a team comprised of Unitarian ministers from across the state, five restaurants from one community, or the Rainbow Caucus from the statehouse!
DESIGNATE A CAPTAIN.
Your captain serves a crucial role, as they are the automatic contact on Outright's end for all the nuts and bolts of the event. The captain will create your team's page on the fundraising platform, gather paperwork, get last minute notices, and more. So choose someone who is good about checking email and organizing information. If that person isn't also the cheerleader type, you may also want someone on your team who is good at drawing people in and getting them fired up. There's room for all of us at Outright!
WHAT TYPE OF TEAM WILL YOU HAVE?
Once you register, you'll hear from us to see if you'll be in the Sporty Class or Spirit Class. Sporty Class teams are the only teams who compete for fastest Pull, and are limited to 12 people on the Pull rope. For Spirit Class, you can have as many people as you can safely fit on the rope. Both classes must raise a minimum of $3,000 to step out onto the course on Saturday, 10/1 for the Pull. You must have met that minimum by Wednesday, 9/28 to qualify. And both classes can have as many team members as they'd like fundraising – it's just the number of pullers on the rope that is limited.
SAY MORE ABOUT THE MINIMUM.
This is our biggest fundraiser of the year, and it takes a good amount of doing to coordinate the logistics for the day of the Pull. We want to see y'all showing up powerfully for youth! And speaking of youth: each year, we get a good number of gifts that come in without being designated to a team or person's page. This year, we will divide those gifts among any youth teams that have not yet hit the minimum to ensure they can pull – youth to the front and center is our motto – and mission!!
GET YOUR TEAMMATES SIGNED UP.
After your team page is created, your teammates can visit the Pull platform to join your team. They'll click "Register to Pull" then "Join a Team." They can search for your team name, then join away!
CUSTOMIZE YOUR PAGES.
Both your team page and your individual fundraising pages can be customized with pictures, stories, and more. Let the world know why your pulling – and what your goal is!
I DON'T HAVE ENOUGH PEOPLE FOR A TEAM. WHAT NOW?
There are a couple options here. You can think creatively to see if you can find some more people to join you (let's say your D&D group of 5 want to rally a team. Is there a Discord where you can find other interested folks?). You can reach out to an existing team and see if they need a hand – each year we have teams that are still trying to raise their minimum, or who are shy Pullers for the day of the event. You can pick a team you like and throw your support (and that of your frens and fam) behind them – maybe pick a youth team! And you can launch a team and give it your best. That's what is beautiful about the Pull – it's each of us showing up in the ways we can for youth.
WHAT HAPPENS NEXT?
Once you sign up (whether you are a captain or a team member, you'll get a confirmation email automatically. And within a couple days, you'll also get a message from us saying hello, seeing how we can help, and offering tips so you can Pull your hearts out!